CORTIJO CEBADILLA BAJA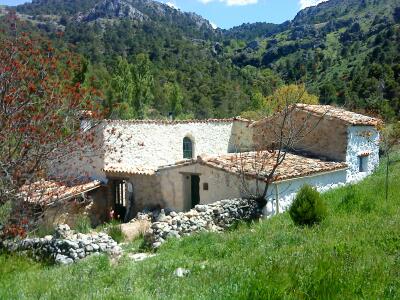 Een klein paradijs in Andalusisch natuurpark
Macrobiotisch / vegetarisch / veganisch pension
A small paradise in Andalusian nature park
Macrobiotic / Vegetarian / Vegan pension
Un pequeño paraiso en un parque natural de Andalucia
Pensión Macrobiotico / vegetariano / vegano
Ein kleines paradischen in Andalusches Naturpark
Macrobiotisch / Vegetarisch / Veganisch pension
Un paradis dans un parc naturel d'Andalousie
pension macriobitique / végétarien / végétalien

LINKS – ENLACES:
Servicio de guia para rutas de pie y en bicicleta

Willgoto, World travel directory and travel guide
Casas Rurales en ZonasRurales.com - Guía fácil de Turismo Rural.
Casas rurales en Cazorla
Buscador de casas rurales
Turismo Rural y Casa Rurales
Vegetarian Vacations Directory - List of tours offering vegetarian or vegan food.
Bicycle Beano Veggie Cycling Holidays - Cycling holidays in England and Wales UK with delicious organic vegetarian food.
casas rurales
Ferienhaus Mallorca oder Ferienhaus Spanien Urlaub
Lastminute Urlaub online buchen - einfach, schnell und sicher bei Reisemafia. Vom Last Minute Urlaub bis zur anspruchsvollen Erlebnisreise.
http://www.promolasvillas.de - Mehr möglichkeiten für ferien in Sierra Las Villas



Cortijo Cebadilla Baja in Mogon
Casas Rurales

Andalucía Locations de vacances
annonce location gratuit et calendrier réservation, Porquerolles, Ile De Porquerolles, Gérardmer, Baie De Somme - shared-house.com

Tweevoeter: Alles over WANDELEN
VOOI EU Holiday accomodations
De Natuurlijke Kookschool en de Internationale Shiatsuschool