TO RELAX IN SPANISH NATURE PARK
CASA DE LA CEBADILLA BAJA
For peaceful tranquility, silence, retreat, spectacular mountain hiking, study of birds and lots more; you can experience all this in our guesthouse in Spain's largest natural park: Sierras de Cazorla, Segura y Las Villas (over 2100 sq. km)
The area is also a UNESCO Ecosphere zone and a birdwatchers paradise.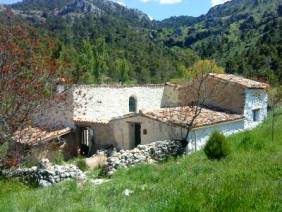 --- ECOLOGIC VACATIONS ---
WHAT and WHERE?
o Our guesthouse is situated in the south east of Spain, in Andalusia – in the nature park.
o We offer pure mountain air, own spring water, an astounding star-crowded sky and a beautiful green area in the mountains (midrange 1300-2100 m) with magnificent valleys and cascades (in spring time).
o You can stay in a room or in a tent (to bring with you). We do have one small 2 person sleeping tent at your disposal.
o We present varied, natural vegetarian meals, full pension (there are few possibilities to eat out, due to the remote location). Macrobiotic meals on request. The meals are taken together with the hosts.
o Individual guidance is available on request: shiatsu treatments, yoga, meditation, Chi Kung, ginger compresses, macrobiotic cooking and -philosophy, living ecologically and self-supportiveness.
o There is extensive possibility to make small and large mountain excursions. Guided walks are also available on request.
o Birdwatchers will enjoy themselves in this region. There are especially lots of predators: vultures, eagles and falcons can be observed from your chair. Vulture nests are at 100m.
o A paradise for nature connoisseurs: >2500 species of plants; 2nd most important in Western Europe.
o In the region you can visit the 2 beautiful cities UBEDA and BAEZA. UNESCO declared them World Heritage because of their architectural (roman and renaissance) richness.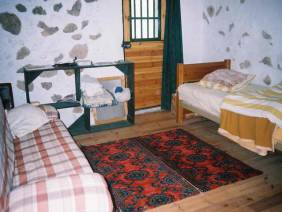 PRICES:
o Room (incl. use of bathroom): 18 euro (1 person-; 25 euro (2 persons) a night; 35 Euro when 3-4 persons.
o Small sleeping room (2,5x3,5 m)(max 2p): 18 euro (reachable via stairway)
o Tent: 8 euro/night ( + 3 euro for use of bathroom)
o Total capacity: 8 persons (1 room 4p; 1 room 2p; 1 room 2p).
o Food: 20 euro a person a day (full pension, snacks & drinks (non-alcoholic.) included); half pension 14E
Children (-12 j): 10 euro (fp); 7 euro (hp).
o Individual guidance (opt.): +10 euro a person a day.
o Guided hikes: 3,5 euro/hour
--- HEALTHY VACATIONS ---
TRAVEL INFORMATION
See our Web site for extended info. Here's a short overview of the possibilities.
§ Airplane: Fly on Madrid or on Malaga. It's advised to reserve an early flight to Spain and a late flight back in order to be able to do the whole trajectory within 1 day. Then you can rent a car OR:
Malaga: At the main bus station in Malaga, take the bus to Villacarrillo (18h30; 25E). Stay the night in Villacarrillo (hotel: ca. 35E). We will pick you up the next morning (12 Euro for fuel cost).
Madrid: From CHAMARTIN train station take the train to LINARES-BAEZA. We will pick you up with the car at this station (30 euro for fuel). An alternative is to take the BUS (station MENDEZ-ALVARO) in Madrid to Ubeda or to Villacarrillo.
§ By car from Madrid or Malaga:
From Madrid: take the A4 direction CORDOBA. Take exit La CAROLINA. Take A301 direction UBEDA and there the N322 direction ALBACETE.
From Malaga: take direction Granada and then Jaen. From Jaen follow direction Albacete. In Ubeda you continue to drive in direction Albacete on the N322.
From Ubeda: 32 km past UBEDA on the N322, take exit 'CAZORLA/SANTOTOME' (near the end of the village). Follow the signs 'CAZORLA/SANTOTOME A6204'. You will drive 9 km downhill to MOGON. In MOGON, follow the brown tourist signs 'SIERRA LAS VILLAS'. At a brown sign 'SIERRA LAS VILLAS', go right. This road leads you into the SIERRA Las Villas (uphill, into the mountains). Each kilometer you'll notice km-poles. Near km.20 you'll pass a small dam and lake. Near km 22 you will see a white school building (marked 'C.P. LA FRESNEDILLA'). Coordinates: N38°04'50";W02°56'60". This is the place of encounter; we'll be waiting for you there to accompany you for the last part of the trip to our hostel. Phone us 2 hours before so we're able to get there on time.
--- ECOLOGIC VACATIONS ---
Tips/Information:
o We live rather isolated. Keep in mind that you will have to walk ca. 30' via a mountain path to our hostel. Carry luggage in backpack
o Horse can transport your luggage on request, for people who can't walk the mountain path, we offer the possibility of transport by 4 wheel drive via an alternative route from Mogon)
o We try to live in ecological balance with nature keeping our impact to a minimum. Try to avoid bringing articles, which disturb this balance (bring f.i. bio degradable shampoo avoid throw-away articles).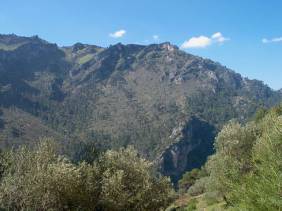 Contact and more info:
o POST: Leo y Ria Ghysels-Apers
Cortijo Cebadilla Baja
LISTA de CORREOS
E-23310 MOGON (JAEN)
o E-mail: leo_ghysels@hotmail.com
o Internet: http://leo-espana.tripod.com
o Telephone: (00)(34)637.983.114
OUR HEALTH PROGRAM
Goal: during this period you'll give your health extra attention, both physically, mentally and spiritually, with our help and guidance. We will use shiatsu, balanced ecological purifying food, supporting medicinal preparations, meditation, yoga and chi Kung. All this will take place in an inspiring natural setting radiating a whole-bringing and tranquilizing energy.
How do we go about? The program will be established individually based on your indications and depending of your needs and whishes. A typical day could look like this:
· in the morning a session of yoga or chi kung under the first sunrays of the new day; followed by a nourishing breakfast
· Individual activities of your choice: f.i. Meditation, a walk, reading a good book in the sun/shade,
· Lunch followed by siesta
· After the siesta: shiatsu treatment or foot-treatment
· A light evening meal
· In the evening possibility for a relaxed conversation, advise or a relaxing massage or ginger compresses
Food:

Some extra attention about FOOD is important because of its strong supporting functioning in this program.

We try to adapt our meals as much as possible to the season of year, to the environment we live in and most importantly to you present condition.

As a starting point for obtaining this we use mainly principles of the Macrobiotic philosophy.

Our meals are varied and a treat to the eye, taste and body.
What does it cost?
25 euro/person a day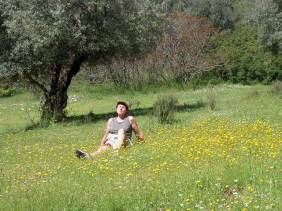 --- HEALTHY VACATIONS ---